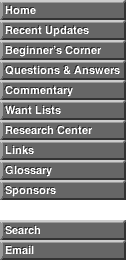 The Search by Denomination serves as our online pattern book. In it you will find images of patterns and related pieces never before seen by the collecting fraternity.

Coins are organized by denomination and listed by Judd (9th edition) and Pollock Numbers. Virtually every image on this website is from a real example, only a few composite and/or colorized images have been used as needed.

In some cases where Pollock broke out designs by die variety, multiple Pollock numbers MAY be listed under the one image. If you are having trouble finding the image you are looking for, you may want to start in our Search by Year. There is a link in the Photo Link column which will tell you if we have an image available of the coin you are looking for.

Descriptive information under each image is generally from the standard references and from the personal observations and knowledge of our members. We have supplied links to other areas of this website and other outside websites where applicable.

When you select a pattern, a "thumbnail" image of the coin will appear at the top of the page. To see an enlargement, simply click on the image.

Saul Teichman has teamed with the Newman Numismatic Portal to make his photo library of many of the rarer patterns available to everyone. This library for example shows images of all 15 known examples of the Schoolgirl dollar in silver. Links for those items have been added to the pages in the individual pattern lookups or can be accessed at the Saul Teichman Photo Library link below.

We would like to thank the various individuals, companies, auction houses and museums who have allowed us to use their photographs.

Please be advised that these photographs are courtesy of the company, museum, auction house or person who supplied it and should only be reproduced with their permission.