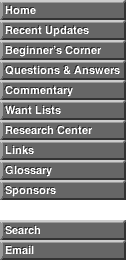 The illustrated example above was last offered as lot 939 in Lester Merkin's 10/72 sale where it was described as follows:

"1855 Gold Dollar, Judd 175a. Regular dies, white metal, irregular flan, plain edge. Unc., gray tone with traces of original lustre better strike than many gold examples of this date. Unique, the discovery coin, formerly in the Breen collection and origin of the listing in Judd."

Its complete pedigree is ex Farouk, Bolender 3/57, Breen, Merkin 10/72, Sloss.

Its genuineness had been questioned in the past but the existence of a second example which is shown below confirmed that these are counterfeit.




Both have the same gouge below and a scratch above the second S in States on the obverse and below the right wreath on the reverse. The only way this could happen is if these pieces were made from dies copied from a real gold dollar which had these scratches on it.

The Farouk sale also had another described as struck in brass.

Photos courtesy of PCGS.