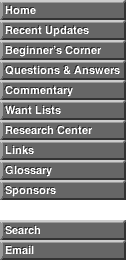 This is the famous Wright quarter trial with 87 stars on the reverse. In the past, this pattern had been described as a cent or half eagle pattern. Don Taxay's U.S. Mint and Coinage mentions a Mint memorandum dated September 11, 1793 which revealed that Joseph Wright had requested payment for "Two Essays of a Quarter Dollar, cut by direction of David Rittenhouse, Esqr and presented to him (broke in hardening)..." Because of this note, it is not clear who truly created the dies used to strike this.

Pollock believes this pattern was made late in 1792 as the motto "Liberty Parent of Science and Industry' has been shortened to the more traditional "Liberty" as on the 1793 coinage.

Examples were struck as follows: To see images of all known examples, click here.

Copper J12/P14

1) Smithsonian Institution - accession number 1991.0357.0121, illustrated above courtesy of the National Numismatic Collection of the Smithsonian Institution, click on the thumbnail to see an enlargement.

2) Cogan 4/1863, Bushnell (S.H. & H. Chapman, 6/1882), Parmelee (New York Coin & Stamp, 6/1890), Dewitt Smith, Brand (journal #46508), Judd, Kosoff & Kaplan 1960s fixed price lists, Partrick-Heritage 1/15 FUN - NGC63BN and is illustrated below courtesy of Heritage. It was struck using 360 degree medal alignment.




Both have straight reeded edges not diagonal as on the 1792 half dismes.

---------------------------------------------------------------------------------------------------------------------------------------------------------------------------------------------------------------------

White metal with plain edges J13/P15 with 4 known. The first 2 were struck on large broad planchets without a collar while the last 2 were struck on regular planchets with a collar like the copper examples. Their pedigrees are far from complete.

1) Strobridge 9/1863 (described as VF which correspond to AU or better today), Woodward 4/1867, unknown intermediates, Lohr, Century-Paramount 4/65, Merkin 6/30/65 trade, Taxay for Chase Manhattan Bank Money Museum, ANS - illustrated above, courtesy of the American Numismatic Society, accession number 1980.66.2, 345 grains.




2) Seavey (1873 Descriptive Catalog #844 described as Fine) to Parmelee (apparently sold by him prior to 1890), unknown intermediates, Chapman 3/30, Morgenthau 10/35, New Netherlands 6/55, Norweb-B/M 11/88, Partrick-Heritage 1/15 FUN - NGCXF45, illustrated below courtesy of Heritage. It was struck using normal 180 degree coin turn, 242.3 grains, 50% lead, 48% tin.




3) New York Historical Society item # INV.13862a (16 grams, 246.9 grains, die alignment 180 degrees) - NGCAU58




4) New York Historical Society item # INV.13862b (14 grams, 216.0 grains, die alignment 160 degrees), deaccessioned by the Society, Heritage 4/21, Resolute Americana Collection - NGCAU58.




These 2 coins were discovered in the New York Historical Society in 2002. For more on this, click here.

With regard to the early pedigrees, it appears that the piece in the 1863 Seavey sale was not Seavey's, but instead placed in that sale by Strobridge from another source. Parmelee apparently sold his piece prior to the 1890 sale as it does not appear in that sale.

Obverse and reverse die trials in white metal are also known to exist. They are listed in Pollock as JA1792-1/P3001 and JA1792-2/P3004 respectively and are ex Bushnell, Chapman 5/1883, Garrett-JHU, Bowers and Ruddy 3/81 (Garrett IV), Bowers and Ruddy RCR #39, Bowers and Merena 1/99, southern collection, Simpson-Heritage 8/21.

For additional historical information on 1792 coinage, click here.